March 23, 2023 at 10:00 AM PST / 1:00 PM EST
Ghosting is an issue that has plagued employers for years, but recently, this phenomenon has seen the disapparition of more applicants than ever before almost reaching a new high of 28% in some industries. While many employers are blaming the rising generation, laziness, lack of respect or professionalism, etc., what if part of the problem was the employer's fault?
In this session, we will cover how to become an HR ghostbuster by looking at three specific areas where ghosting occurs the most. Understanding why it occurs is the only way to potentially mitigate the issue and give your organization the opportunity to attract applicants while keeping them interested and engaged to avoid losing them along the way.
Three Core Learning Objectives
• Understand how the application process can cause ghosting and three immediate practices that can be implemented to mitigate ghosting at this stage of the process.
• Define the job seeker persona to help avoid the common mistakes that lead to ghosting and understand how the job ad has a direct impact on the likelihood of ghosting from the application stage to the interview process.
• Gain a sound understanding of how manager engagement during the interview process can help stop ghosting and learn the three core elements needed to help managers better prepare for the interview.
---
Meet the Panelists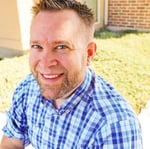 Steven J Smith, SHRM-CP, PHR
Chief Hiring Expert - First30
Steven J Smith, SHRM-CP, PHR has been in the Human Resource profession since 2005 after earning a BS in Finance from Brigham Young University. His strong background in Finance and Sales has helped Steven be very successful when it comes to organizational development and growth by bridging the communication gap between HR and the Executive Suite. In 2008 he saw an opportunity to enhance the growth of organizations worldwide by helping ApplicantPro get started in the Applicant Tracking space, empowering HR professionals and leaders to be more of a strategic hiring partner within their own organizations. As a Hiring Expert for ApplicantPro, Steve has consulted with thousands of companies across the country on strategic ways to improve hiring processes in hundreds of industries. Steve currently serves as the State Director for Utah SHRM where he is responsible for 5 chapters across the state and their more than 2500 volunteers. At the end of 2022, Steve published his book "The Hiring Tree: Laws of Applicant Attraction."
Noah has been leading people teams and helping startups scale their people process across Canada and the US. Now as Head of People at Guusto, he gets to marry his passion for employee best practices and a people-centric mission of helping companies create amazing employee recognition programs to build community, connect teams, and engage employees in meaningful and authentic way.