September 21st, 2021 11:00AM PT / 2:00PM ET
Winner of the 2021 Marie Claire "Ethical Initiative Award", Jackie Kankam and Ashley Thomson of DECIEM will share how making real change in the world starts from within. Jackie and Ashley will share how Diversity, Equity and Inclusion at DECIEM goes beyond the typical HR or communications approaches, in order to holistically tackle systemic issues and to create change in our communities.
Meet the Panelists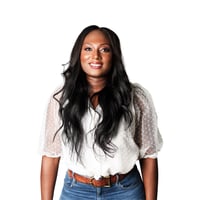 Director of Sustainability and Social Impact
DECIEM
Jacquelyn started her career in Sustainability, Social Impact and DE&I over 14 years ago, after gaining a degree from the University of Toronto in Environmental Resource Management, a degree Jacquelyn chose to explore after studying the environmental aspect of International Relations.
Inspired by her surroundings - living by the old Imperial Oil office building in Toronto - Jacquelyn was driven to make an impact in an industry that arguably needed it most, and began managing large-scale oil projects. This path could have been deemed 'untraditional' for someone in Environmental Studies where many would opt for non-profit, for Kankam the company was right, the impact would be greater. Starting out as a project coordinator, working alongside teams detailing the optimum environmental impact of various oil sands projects, named Environmental Impact assessments, she set out to make the meaningful change the industry so desperately needed.
Driven for not only a curiosity of the environment but a yearning to do better for a lasting planet, Kankam set her sights on real estate, addressing ecological and social issues, whilst building future-proof strategies in commercial and residential builds.
As Jacquelyn continued to set out on a mission to do better within many industries she changed focus to aviation joining Air Canada, to manage environmental sustainability. Here Jacquelyn looked into ways to engage customers and industry on aviation's sustainable journey, while focusing on many topics including plastic and reporting.
Growing a team of emerging professionals and mentoring the younger generation on preserving our future, Jackie saw a huge opportunity to create a powerful and good impact within an industry ready to overhaul preconceptions of its sustainability practices.
That brings us to today, where Jackie holds the position of Director, Sustainability and Social Impact at DECIEM. Jackie leads the overarching company initiatives towards doing good to our people, planet and animals. Kankam's role develops, communicates and executes the sustainability strategy across internal departments and external stakeholders, collaborating on all facets of the business and needs. She is passionate about diversity and inclusion, mental health and mentors young emerging professionals. In addition, Jacquelyn co-chairs the Diversity, Equity and Inclusion strategy alongside the VP of People. Together they set out to be an impactful voice and counsel, on behalf of the whole DECIEM family. Pushing to create a workplace environment idolised and considered by other companies around the world to do even better. Their work has been recognised by industry leaders, winning The Best Ethical Initiative for the Community and Family Funds, as well as the voting and protesting days available to the DECIEM family in the Marie Claire Sustainability Awards 2021.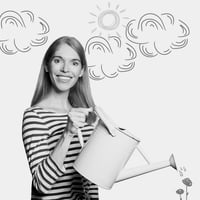 Vice President of People
DECIEM
Combining over 15 years of HR, talent, and organizational development experience with a Master's in Psychology, Ashley began her career path in recruitment, specialising in a variety of roles for the activewear brand, Lululemon. She implemented and executed company-changing sourcing solutions including, time-to-hire and quality-of-hire which led her to find a genuine passion for People in the workplace, understanding the importance of an individual's needs and wants from their employer. Ashley moved into a Global recruitment role within the company and worked cross-functionally to create best-in-class employment branding, development, and recruitment strategies, training, programs & tools, which went on to aid towards the companies' best places to work' and 'best employment' award wins, of which Lululemon is still recognised for across the world.
Ashley's transition from an HR role to a People and growth department, took her to a fresh food delivery company taking on the role of VP, People Culture and then, Chief People Officer, developing exceptional talent and people development initiatives to encourage leadership, compensation and development.
Ashley's mission to create processes driven to align with the purpose and values of a company and in turn, create workplaces that nurture and develop individuals led her to DECIEM. Today she holds the position of Vice President of People - Global, responsible for leading the HR, Talent Acquisition, Learning & Development, Internal Communications, Total Rewards & Analytics, and Project Management teams and overall strategies. Alongside the Director of Sustainability and Social Impact, Ashley has introduced a company-wide Diversity, Inclusion and Equity strategy, including initiatives to support diversity across all levels of the company, and create listening sessions for all individual's voices to be heard across DECIEM. Continuing to grow to power good, DECIEM's DE&I program goes beyond the typical HR or communications approaches, in order to holistically tackle systemic issues and to create meaningful change in the communities.
Cultivating an environment that encourages an individual's learning journey, empowering them with initiatives and tools to thrive within the workplace, Ashley's job is to make every generation want to work at DECIEM, and she has a vision to help organizations see that investing in People is strategic, and to enable people to live their best lives - inside and outside the workplace is her and her team's main goal. Ashley and her team's work has gained recognition within the industry, being awarded The Best Ethical Initiative in the 2021 Marie Claire Sustainability Awards for the efforts and initiatives created at DECIEM focused on the People.
Head of People
Guusto
Noah has been leading people teams and helping startups scale their people process across Canada and the US. Now as Head of People at Guusto, he gets to marry his passion for employee best practices and a people-centric mission of helping companies create amazing employee recognition programs to build community, connect teams, and engage employees in meaningful and authentic way.