January 25, 2023 at 11:00 AM PST / 2:00 PM EST
When the frontline workforce is in high demand, how do employers engage and retain their team members? The COVID-19 pandemic has forced HR leaders to find a new north star, and Compass Group has done just that.
Join Andy Maus, Senior Vice President of Human Resources at Compass One Healthcare, and Noah Warder, Head of People at Guusto, as they take a deep dive into how company culture has transformed employee retention at Compass. Andy and Noah will walk through Compass' successful "Square One" program which forms the foundation of the company's employee engagement and retention strategy.
---
Meet the Panelists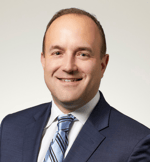 Andy Maus
Senior Vice President of Human Resources - Compass One Healthcare
Andy Maus oversees all Compass One Healthcare human resource departments. This includes the overall people strategy carried out by the field HR, talent management, talent acquisition, and learning & development teams. Before joining Compass Group, Andy worked across several industries and functions within HR.
Noah has been leading people teams and helping startups scale their people process across Canada and the US. Now as Head of People at Guusto, he gets to marry his passion for employee best practices and a people-centric mission of helping companies create amazing employee recognition programs to build community, connect teams, and engage employees in meaningful and authentic way.