January 27th at 11:00AM PST / 2:00 EST
At this point, you've likely rolled out your 2022 health and wellness benefits. So, what comes next?
Health benefits tend to be set in stone every year. But with employee wellness now more important than ever before, People Teams need the flexibility to be able to adapt their approaches throughout the year.
Join Jonathan Shooshani, Co-founder of JOON, for tips on how to create a flexible wellness program that grows with your team, increasing employee engagement and promoting a holistic workplace culture.
---
Meet the Panelists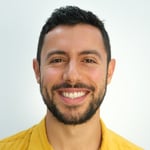 Jonathan Shooshani
Co-Founder @JOON

Jon is a social entrepreneur that has been working at the intersection of wellness and technology over the past decade. He's passionate about the future of work, building businesses that help people lead happier and healthier lives, and creating greater access to health and wellbeing.
JOON's team has first-hand experience working at some of the highest-rated employers and saw how difficult it was for our HR teams to seamlessly administer wellness benefits, let alone for employees to use them. We interviewed HR leaders, employees, behavioural scientists, and fintech experts to learn how we could introduce a paradigm shift to corporate wellness that would automate administration and simplify usage.
Noah has been leading people teams and helping startups scale their people process across Canada and the US. Now as Head of People at Guusto, he gets to marry his passion for employee best practices and a people-centric mission of helping companies create amazing employee recognition programs to build community, connect teams, and engage employees in meaningful and authentic way.